Motorcycle
Whether it's your bike or ours all motorcycles must be in a road-worthy/track-worthy condition prior to being deemed safe to ride on the circuit.
The following items will be scrutineered on the day of your event:
All treaded tyres must have a minimum of 2mm tread depth above the wear indicator at the beginning of the day – this includes centre as well as sides. If subsequent inspection during the day shows the tyre to be on or below the tread depth indicator access to the track may be denied;
Slick tyres can be used on dry a track only. Access may be denied if the track is deemed unsuitable for slick tyres;
Front and rear brake pads must be deemed to have suitable material to complete a day at the racetrack;
Tyres cannot have any puncture repair of any type. Contact the office on more details for tyre availability through MEGA Workshop;
Front and rear brake disc rotors must be above minimum thickness as per manufacturer specifications (this measurement is stamped on the rotor carrier);
Front and rear brake lines must be secured correctly and must not leak or weep fluid;
Front & rear brakes must operate correctly upon testing;
Fork seals must not show any signs of leaking or weeping fluid;
There must be no evidence of oil leaks or weeps of any kind;
Fairings must be secured correctly (no race tape!);
Any damage to fairings must not have sharp or jagged edges, or in any way be deemed a potential threat to any rider;
Foot pegs and mounting brackets must be secured and aligned correctly;
Mirrors must either be removed or taped over. If they are not taped prior to, our staff will do so at scrutineering;
Exhausts must be secured by all mounting points;
Slash cut pipes with sharp edges that are dangerously placed will not be allowed such as high on the rear of the motorcycle (E.G. 2004-2014 Yamaha R1 or 2005-current Honda CBR600RR)
Motorcycles with lower exhaust may use a slash cut pipe providing;

The pipe does not extend past the swing arm, exposing an edge, or;
Leaving a gap of more than 30mm between the bikes body work and / or swingarm.
Each of these slash pipe placements could potentially create a risk of slicing and / or impalement and are strictly not allowed, unless the edge of the pipe is rolled or built up to a 5 mm wide edge for slash pipes or a 3 mm wide edge for straight cut pipes. If you're unsure,contact the office on 0490 281 840."

There must be no evidence of fuel leaks of any kind.
Gear sack and pannier racks must be removed.
A chain guard as per the manufacturers specification must be securely fitted
Levers or pedals that are bent and deemed difficult to operate must be repaired or replaced;
Throttles must snap back to the off position when released;
Handlebars must be secured and show no evidence of being able to move or be bent from the original shape intended by the manufacturer;
Handlebars must have original or aftermarket "Bar Ends" fitted. I.E. Handlebar must not have an open end.
Brake & Clutch levers must be complete with ball-end.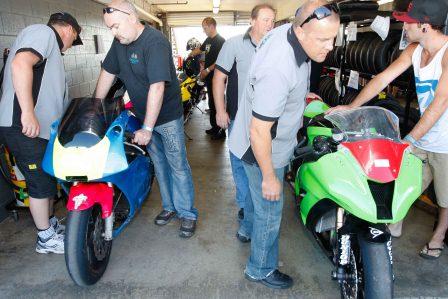 If you have any questions regarding your motorcycle's suitability for Phillip Island Ride Days, please contact us on 0490 281 840 or email info@ridedays.com.au